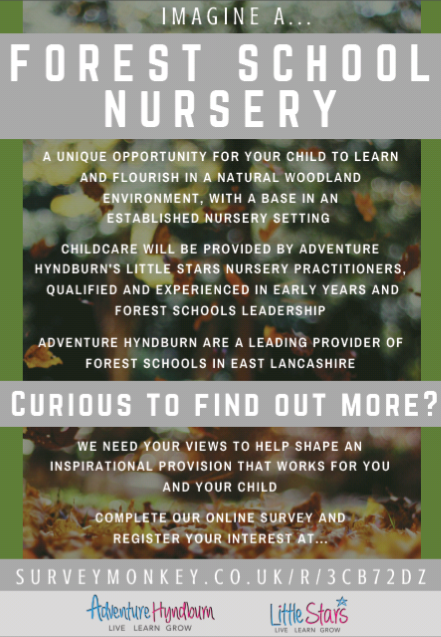 Imagine a Forest Schools nursery...quality childcare in an inspirational setting.
We believe that children flourish in nurturing environments. Strong relationships with other children, grown-ups and a rich environment for learning support this. We feel very strongly that nature provides the perfect learning environment to support children's holistic development. Often our most precious childhood memories are of our experiences outdoors – these are greatest moments of learning.
Our concept of a Forest School nursery is to create a safe place for your child to learn and develop freely and in a way which suits their style and pace. Provision will be learner-led with experiences built around the needs and interests of children. Your child will be encouraged and inspired through a variety of simple achievable tasks in the woodland environment, where they will grow in confidence, self-esteem and independence.
As a leading provider of Forest Schools in East Lancashire, Adventure Hyndburn, together with Little Stars Nurseries, is proposing to establish a NEW Forest School Nursery in a spectacular wooded area of Bullough Park, south Accrington .
From September 2018, the setting will offer paid provision for 3 and 4 years olds, with some FEE places available. Your child will benefit from access to a natural woodland environment with the base in an established nursery building, with childcare provided by qualified and experienced early years and Forest School practitioners.
We need your views to help shape an inspirational provision that works for you and your child.