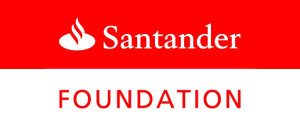 Adventure Hyndburn are delighted to have been successful in our application to the Santander Foundation for a Discovery Grant worth £4,389 to fund our delivery of programmes of Big Cook Little Cook for local families.
The aim of our food initiatives is to bring families together to learn and develop cooking skills, build confidence, discover new tastes and excite young people about food. We're proud of the success of our Big Cook Little Cook programmes and are pleased to see these continue to thrive with the help of this funding.
Big Cook Little Cook programmes run over five consecutive weeks with an opportunity for families to prepare a new recipe together each session. Our welcoming Community Kitchen and café space at The Park Child & Family Centre provides the perfect environment for parents and their children to cook and enjoy social time with other families. The highlight of the session is certainly the tasting - each family goes away with the food they have prepared to share and enjoy with others at home.
Sessions are led by Adventure Hyndburn's community team with the support of Lancashire County Council's Child and Family Wellbeing Service. Shaheen, the programme lead, is passionate about food and brings a wealth of knowledge and experience to the sessions together with an enormous enthusiasm and a warm, friendly welcome.
The initiative has been enormously popular with more than fifty new families enjoying programmes each year. With this, the variety of delicious recipes has grown and grown, with families adding their own family recipes and favourites. In response we began to develop our own recipe book filled with healthy family meals which are all fully costed to support with budgeting. Each family completing a programme of Big Cook Little Cook sessions is gifted with one of our professionally produced recipe books. Families really value this and tell us this helps them to continue cooking and home and trying new things with their children.
If you'd like more information about our Big Cook Little Cook sessions please contact Shaheen at The Park Child & Family Centre on 01254 387757,